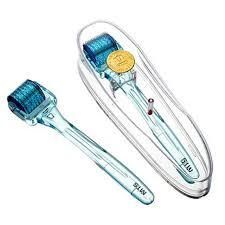 MTS Skin Roller 0.2
MTS Skin roller
$139.00
or 4 interest free payments of $34.75 with
learn more
MTS Roller™ uses 200 very fine,
high-grade surgical steel needles to create controlled micro-injuries
within the skins surface. This in turn stimulates our natural wound
response bringing about fresh collagen and elastin production as well as
our skin's own growth factors leading to a healthier, plumper and more
refined appearance. Resulting micro-channels also aid in infusing
therapeutic serums for greater penetration and increasing overall
efficacy.
The gentle stimulus provided by micro-needling is far more 'skin
friendly' and thus far more effective than many other more invasive and
more expensive skin treatments. Micro channels seal within hours after
application, long enough for new collagen structures to form within the
lower layers of the skin and short enough to allow clients to resume
their schedule quickly.
Clinical studies from Europe, U.S and South Korea have proven that
serum absorption is increased as much as 1,000 times when applied with MTS Roller™.
Clinical studies have also shown that treatment with MTS Roller™ is
more consistent in increasing the thickness of the skin than IPL and
other resurfacing treatments.
MTS Roller™ is a versatile treatment alternative
applied to a wide range of skin conditions including depressed acne
scarring, surgical scars, sun-damaged skin, uneven pigmentation, uneven
skin texture, wrinkles and "smile" lines, stretch marks and cellulite.
Unlike other skin rejuvenation treatments the MTS Roller™ is
non ablative and does not burn the skin (IPL, Lasers), dissolve it
(chemical peels), or abrade or scrape it (dermabrasion) thus minimizing
the downtime.
SKU: 10114