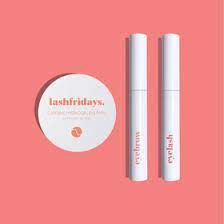 Lash Friday EYES TO ENVY
LASH FRIDAYS
Sale $175.00 $119.00
The ultimate bundle for achieving enviable lashes, brows, and eyes. This set includes our top-selling Lash Serum to enhance and strengthen lashes, our Brow Serum to boost your brows, and our brand-new Caffeine Hydrogel Eye Pads to reduce the appearance of dark circles and puffiness.
The hydrating gel pad formula also includes Hylauronic Acid and Collagen to nourish and moisturize the delicate skin around your eyes, leaving you looking and feeling refreshed.
Lash & Brow Serum: 60 Days supply if used daily. Vegan. Lash Extension friendly.
INGREDIENTS
Peptide – Our main active ingredient. A chain of amino acids to lead to better hair health.
Purified Water – Water is used as a solvent to dissolve the serum ingredients.
Hyaluronic Acid – Hyaluronic Acid is also used to thicken the lash serum.
Collagen – Collagen enhances the appearance and feel of lashes by increasing lash body, suppleness and sheen. Our collagen is vegan.
Cucurbita Pepo Pumpkin Seed Extract – The oil from pumpkin seeds helps increase hair growth.
Sphingolipids – Sphingolipids are complex, long chain lipids (fats) that function as conditioning ingredients.
Arginine – Amino acids that help condition lash hair.
Biotin (Vitamin B7) – Biotin adds body and shine to lash hair.
Keratin – Keratin is a type of protein that
works by smoothing down the cells that overlap to form your lash hairs.
This can make them smoother.
SKU: 10000-185