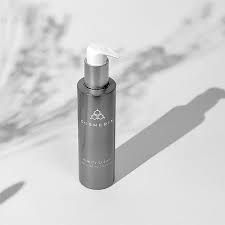 COSMEDIX Purity Solution - Nourishing Deep Cleansing Oil. 100ml
Cosmedix
Sale $79.00 $67.15
or 4 interest free payments of $16.79 with
learn more
Purity Solution Nourishing Deep Cleansing Oil is a two-in-one makeup remover and cleanser with a nutrient-rich blend of radiance-boosting oils that gently melt away dirt, oil, makeup and
impurities for a hydrated, healthy-looking glow.

• Removes makeup and impurities without stripping skin of natural
moisture • Helps to purify skin for a smoother-looking complexion • Aids
in nourishing the complexion with radiance-boosting vitamins.
Skin that feels healthier and more hydrated after cleansing? That's
unheard of—until now. Formulated with a nutrient-rich blend of olive,
moringa, kukui, safflower, sesame and argan oils, Purity Solution
Nourishing Deep Cleansing Oil works to gently break down dirt, excess
oil, long-wear makeup and sunscreen, rinsing completely clean with water
and leaving skin feeling soft, supple, hydrated and
healthy-looking—never tight or greasy. Gentle enough to use even on the
eye and lip area, this multitasking cleansing oil nourishes the skin
with nutrients as it aids in purifying the complexion—making it the
perfect solution for completely cleansing skin daily without stripping
away essential moisture.
SKU: 10000-48