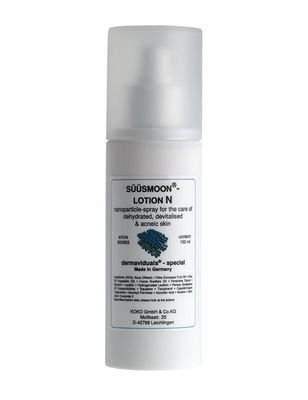 Dermaviduals Suusmoon Lotion N 150ml
DERMAVIDUALS
süüsmoon®-Lotion N contains nature-identical vegetable oils encapsulated in nanoparticles. The nanoparticle shells include high quality membrane components and essential fatty acids.

Dry skin with skin barrier
disorders needs a skin care lotion with a high oil content to restore its natural balance. süüsmoon®-Lotion N regenerates the natural skin barrier and supports the prevention of dry and neurodermitic skin. süüsmoon®-Lotion N is also recommended for the prevention of skin
impurities and light forms of acne with simultaneously dry skin (for oily skin: süüsmoon®-Lotion P or PlutioDerm®). The nanoparticles used consist of natural phosphatidylcholine which is also to be found in the human cell membrane and which contains large quantities of linoleic acid
(vitamin F). The human organism and above all the skin need linoleic
acid, which the human body is not able to synthesize.
Dermaviduals is a prescriptive skin care, so please contact us directly or book in for a skin consultation to see what skin care is best for you.
SKU: 10138