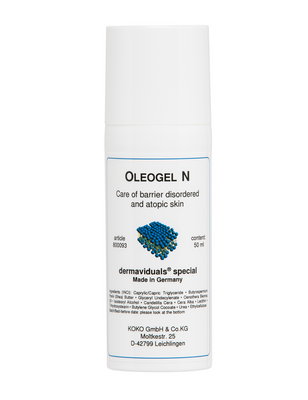 Dermaviduals Oleogel N 50ml
DERMAVIDUALS
Oleogel N contains vegetable oils, Ureaand Evening Primrose Oil in an ointment base that is free of water. The product penetrates very fast due to the content of natural phosphatidylcholine.

Oleogel N is very efficient and provides dry and/or atopic skin effectively with lipids. The
essential gamma-linolenic acid is used to support the prevention of inflammatory skin reactions − especially in case of essential fatty acid deficiency. Urea has an anti-itching effect. All you need is a small amount for the applications.
Dermaviduals is a prescriptive skin care, so please contact us directly or book in for a skin consultation to see what skin care is best for you.
SKU: 10064