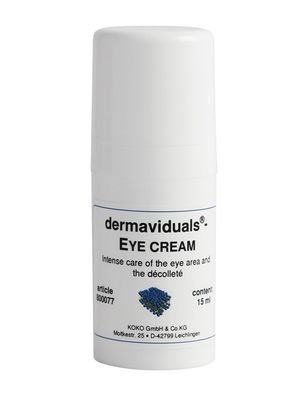 Dermaviduals Eye Cream 15ml
DERMAVIDUALS
DMS® cream with coenzyme Q10, kigelia extract, hyaluronic acid, ceramide, phytosterols and skin-caring lipids – among others with cuckoo flower oil (lady's smock oil), olive oil and shea butter.

The product hydrates the skin and supplies natural lipids. It tightens and smoothes sensitive and
delicate skin with kigelia and hyaluronic acid.
Dermaviduals is a prescriptive skin care, so please contact us directly or book in for a skin consultation to see what skin care is best for you.
SKU: 10141